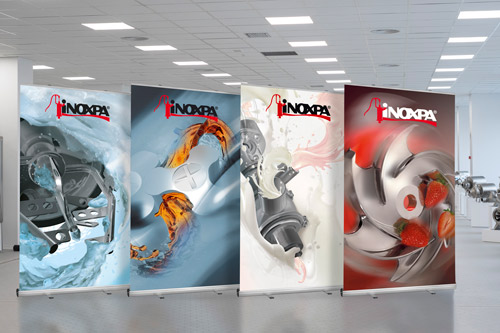 Keeping a corporate image up to date is no easy task, and the secret to its currency lies in the art of maintaining its foundational spirit, while evolving in parallel with the company.
The company is rolling out a new line of corporate elements with a renewed image in line with the times. Some examples include product catalogues, roll-ups, and also, a new range of posters designed to promote the various products manufactured by INOXPA.
The images exude dynamism and vitality through varied and daring graphic compositions. These are based on the concept of movement between the different elements. The images simulate the functions of the equipment and its relationship with the fluids characteristic of each industry.
With these new resources, INOXPA has expanded the range we had started with the image of the food industry, and now grows along the same line to also cover the pharmaceutical, cosmetic, and dairy industries.
INOXPA is evolving, and so is its corporate image. Therefore, INOXPA's marketing and communication department works toward the objective of maintaining a coherent image representative of a company in continuous growth that also keeps its most established philosophy and roots intact.